I LOVE PONIES! Always have, always will ......................
Ponies have a spot in every girls heart. They were in my dreams every night and I hope to share my ponies with my grandchildren some day.
Ponies have not always been favored in my area. They were known to be stubborn, ill tempered, you name it bad. It never seemed to occur to anyone around here that a pony is only as good as it's breeding and training and most were left to children to raise and play with. Rather than breeding for good ponies, with a good raising and good training they were often left to their own to breed and the resulting foals given to kids as toys.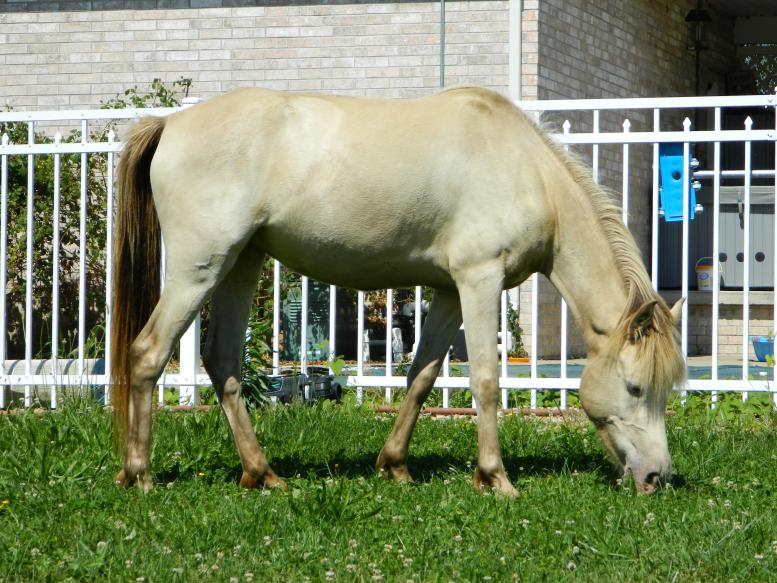 A good pony is worth their weight in gold and carrots.
I firmly believe in breeding for type and temperament. We only choose the most fitting mares and our stallion is as good as they come! Whether breeding for a sport type pony, a gaited pony or a plain ole kids pony the goals we carry through before breeding through finishing are temperament, intelligence, trainability and willingness. Because there is always a market to consider, we want our ponies to "be" wanted and desired so adding a bit of sparkle as in color and spots to make them more than special we have some of the rarest of the rare in color and patterns. Our ponies do not go un-noticed!
Champagne color and/or Appaloosa spotting patterns are not common in ponies. There are no pony breeds that have Champagne so we use our Amber Champagne Appaloosa pony stallion (from Miniature Horse breeding) on a variety of mares and he has never disappointed us. His hallmark talents as a stallion are producing spectacular temperaments, very intelligent and willing ponies with color and/or spots so it's always exciting when there is a foal due.
Our goal is a pony that is useful, not too small for a smaller adult to train and not so small they are so quickly outgrown by the children or adult who will come to adore them. My ideal height range is 11 to 13 hands and they will suit most children to smaller adults for riding and any age for driving.
My mares include Missouri Foxtrotter mares for lovely gaited ponies for trail and show, stock type ponies out of my homozygous appaloosa pony mare Sheena and my SE AK Arabian mare produced a most amazing half Arabian pony filly, Layla Sparkles is registered HAHR and ICHR.
Our stallion is Lil Champagne Tease - ICHR registered Amber Champagne Appaloosa colored pony. At 10.2 hands, he is breeding mares from 11.2 to 14.3 hands for ideal sized ponies and is also available to approved outside mares. Every pony on this page is by our stallion, who also goes by the barn name, Studley. A name well deserved and well known.

The current economy has limited the number of foals we raise each year so, in general, I don't breed unless I've sold a foal and have the space to keep what I raise. However, Miss Sheena and Mr Studley seem to be able to pull it off and I generally have a foal each year from these two darlings. Below is their 2013 filly, Miss Pippi, a sable champagne appaloosa, just a bit of appy patch on the rump but it's clean white with no spots and is likely homozygous for Lp like their other foals have been.